Community Solutions Program USA – Fully Funded
Community Solutions Program USA – Fully Funded
The Community Solutions Program is a professional leadership development program for the best and brightest community leaders worldwide. Community Solutions Fellows complete a four-month fellowship with a U.S. nonprofit organization or local government agency. Our Community Leadership Institute provides an integrated leadership curriculum and individualized coaching throughout the fellowship. Fellows return home to apply their new skills through a community action project.
The Community Solutions Program is sponsored by the U.S. Department of State with funding provided by the U.S. Government and supported in its implementation by IREX.
Goals
The goal of the Community Solutions Program is for engaged community leaders to positively impact the complex economic, environmental, political, and social challenges in their communities and become ambassadors for mutual understanding.
The Community Solutions Program also increases the capacity of U.S. partner organizations by nurturing collaboration and partnerships with international professionals and organizations.
Project Activities
Four-month U.S.-based fellowship: Community Solutions Fellows are matched with nonprofit organizations, private entities, and government offices across the United States where they work with U.S. colleagues on initiatives related to issues they face in their own communities.
Community Leadership Institute: The cornerstone of the program, the Community Leadership Institute is a leadership academy that provides customized learning and coaching to each Fellow. Leaders participate in online sessions and in-person workshops, receive professional coaching, engage in experiential learning through tailored professional fellowships at U.S. host institutions, and interact with other professionals in their field.
Community-based initiatives: Community Solutions Fellows develop innovative community action projects in collaboration with their U.S. host institutions and implement these projects after they return to their home countries. Project summaries are made available online, allowing Fellows to share their work with other community leaders around the world.
International network of community development professionals: Fellows continue to network and collaborate with like-minded leaders from around the world on global development issues through alumni activities and opportunities offered through the Community Leadership Institute online platform.
Apply to become a CSP fellow
Community Solutions Program application information
IREX is currently accepting applications for the 2021-2022 Community Solutions Program will be accepted between Wednesday, September 16 and Wednesday, October 28, 2020
When completing the application, please note:
• Applications must be completed online; applications that are mailed, faxed or emailed to IREX will
not be accepted.
• Questions that are marked with a red asterisk must be answered. If a required question does not
apply to you, enter N/A (not applicable).
• Do not translate the spelling of names or locations into English, only into the Englishalphabet.
• Other than names and locations, write all answers in English. Applications that are not completed in
English will be disqualified.
• Applications must be completed solely by the applicant.
• Applications must be submitted by October 28, 2020 at 11:59 p.m. to be considered.
• Individuals may only submit one application. If an applicant submits two applications using different
email addresses, then the individual will be disqualified.
Eligibility Requirements
To be eligible for the Community Solutions Program, applicants must meet the requirements listed
below. Applications that do not meet these eligibility requirements will be disqualified and will not be
reviewed by the selection committee. Please note that the U.S. Department of State and IREX reserve
the right to verify all the information included in an individual's application. In the event that there is a
discrepancy, or information is found to be false, the applicant will immediately be disqualified.
• You are between the ages of 25 and 38 as of January 1, 2021
• You are a citizen of one of the eligible countries listed below
• You are living and working in your home country
o Individuals with refugee status working on behalf of their home community may be given
special consideration
• You have at least two years of experience working on community development, either as a full-time
or part-time employee or volunteer
• You are not currently participating in an academic, training, or research program in the U.S.
• You have a high level of proficiency in spoken and written English at the time ofapplication
o Semifinalists will be required to take or submit recent scores for a TOEFL or IELTS English
language test
Application Deadline:
Wednesday, October 28, 2020 by 11:59 P.M. EST
• You are available to travel to the U.S. for four months from August to December 2021
• You are not a citizen or permanent resident of the U.S. and have not applied for U.S. permanent
residency within the past three years
• You are eligible to receive a U.S. J-1 visa
o Applicants who have participated in an exchange program sponsored by the U.S.
Government must have fulfilled their two-year home residency requirement
• You are committed to returning to your home country for a minimum of two years after completing
the program
• You are not a current IREX employee or consultant, or their immediate family member
Eligible Countries by Region
Africa: Botswana, Cameroon, Democratic Republic of Congo, Ethiopia, Kenya, Ghana, Guinea, Liberia,
Malawi, Mozambique, Namibia, Rwanda, Sierra Leone, South Sudan, Sudan, Tanzania, Uganda, Zambia,
and Zimbabwe
East Asia and the Pacific: Brunei, Burma, Cambodia, Federated States of Micronesia, Fiji, Indonesia,
Laos, Malaysia, Mongolia, Papua New Guinea, Philippines, Republic of the Marshall Islands, Singapore,
Thailand, Timor-Leste, and Vietnam
Europe: Albania, Bosnia and Herzegovina, Bulgaria, the Czech Republic, Estonia, Hungary, Latvia,
Lithuania, North Macedonia, Moldova, Montenegro, Romania, Serbia, Slovakia, Turkey, and Ukraine
Middle East and North Africa: Algeria, Bahrain, Egypt, Iraq, Israel, Jordan, Kuwait, Lebanon, Libya,
Morocco, Oman, Qatar, Saudi Arabia, Syria, Tunisia, United Arab Emirates, and West Bank/Palestinian
Territories
South and Central Asia: Bangladesh, Bhutan, Kazakhstan, Kyrgyzstan, Maldives, Nepal, Pakistan, Sri
Lanka, Tajikistan, Turkmenistan, and Uzbekistan
Western Hemisphere: Bolivia, Brazil, Colombia, Costa Rica, Dominican Republic, Ecuador, El Salvador,
Guatemala, Haiti, Honduras, Jamaica, Paraguay, Peru, Trinidad and Tobago, and Uruguay
Selection Process
Competition for the Community Solutions Program is merit-based. After the deadline, all eligible
applications will be reviewed by a selection panel. The panel will then choose semifinalists to complete
an interview. Semifinalists will also be required to take an English language exam or submit recent
TOEFL or IELTS scores. After the interviews, finalists and alternates will be selected, pending their
performance on their English language exam.
Application Deadline:
Wednesday, October 28, 2020 by 11:59 P.M. EST
Community Solutions Program Timeline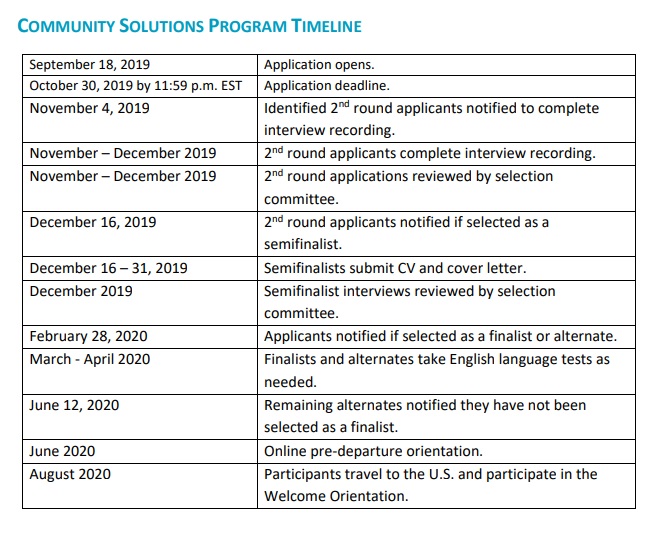 Application Instructions
Applications for the 2021-2022 Community Solutions Program will be accepted between Wednesday,
September 16 and Wednesday, October 28, 2020. Application must be submitted online at
https://oas.irex.org/csp by Wednesday, October 28, 2020 at 11:59 p.m. EST to be considered.
Applications that are mailed, faxed or emailed to IREX will not be accepted. Please direct any questions
after reading this document to [email protected]